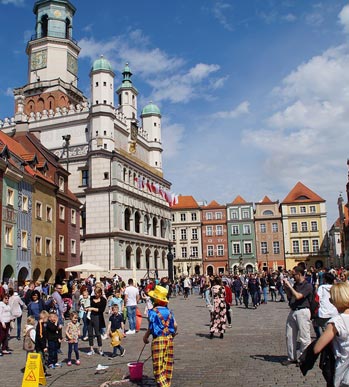 Odeyseos – Explore more on holiday
Odyseos, an application that makes it easy to leave your luggage close to the place you are interested in. We connect tourists with baggage storage points. Odyseos effectively solves the simple problem of tourists, where to leave luggage while I want to explore the city? We cooperate with hairdressers, restaurants, hotels, hostels, shops and many other places that have free, open space. A space where tourists can leave their luggage. Enjoy a free tour of the city. No luggage. No stress.
Choose the city. See the available baggage storage facilities on the map. Choose the baggage storage that suits you best. Specify the date and time of leaving and taking back your luggage. Pay for the service. You will receive an email with the exact address of the baggage storage facility and a transaction confirmation. Enjoy the freedom to explore the city without baggage.
How does the Odyseos work?

Book online
Find and select a convenient location.

Leave your luggage
Leave your luggage in 3 minutes and secure it with a headband.

Visit
Enjoy the freedom to explore the city.

Take your luggage back
Take your luggage back at a time convenient to you.
Network of baggage storage facilities
Odyseos
The Odyseos is a baggage storage reservation system. In many, different cities you can leave your luggage. You can leave your luggage in a safe, supervised place. In every situation when you are looking for the possibility of luggage storage in the city, you can choose the Odyseos. We are a young startup, we are just beginning.
We hope that the network of baggage storage facilities that work with us will grow quickly. For a little more than a good coffee you can leave your luggage in the place that suits you best. A place close to your trail. You can secure your baggage with a headband with a unique number that uniquely identifies your baggage.
Odyseos for me
You're on vacation. You're exploring the city. You want to be able to explore more, new places, new people, without any luggage. Now you have that opportunity. It's easier than that. All you have to do is use the Odyseos.
Looking for a place in town where you can leave your luggage? We cooperate with a constantly growing group of shops, hotels, restaurants, hairdressers, florists and other safe businesses. Places where you can leave your luggage. At convenient hours for you. In a place convenient for you. On conditions acceptable to you.
Safety
The Odyseos is a safe service. We work only with selected companies. The ones that meet our requirements. All baggage storage points are under the supervision of the people who work in them at all times. These are their businesses. They won't leave them unattended. Additionally, in the reservation option you have the possibility to insure your luggage.
However, you must remember that services are provided by people. And they may make mistakes. Keep that in mind forever. Therefore, do not leave valuable items and documents in your luggage, which you leave at the points - baggage stores cooperating with Odyseos.
The price of the Odyseos
There is no single fixed price for luggage storage. We operate in many, different markets in many locations. At Odyseos we try to make our services competitive in the market. We do not have fixed prices. They depend on many different factors. The value of the service is influenced by the state, the city and the location of the luggage storage point.
We try to ensure that the points - luggage storage facilities are located on popular tourist and communication routes. Next to places that are often visited by tourists. We care about the wide availability of services and comfort of travellers. Although we also cooperate with points that are located in less frequented places.
Size of luggage
The maximum size of the luggage is the size of the largest suitcase we have managed to find. Its dimensions height 90 cm (35,5 inch), width 70 cm (27,5 inch), depth 50 cm (20 inch). If you have larger luggage, please contact us. We will try to help you. If you want to store luggage with definitely different dimensions, there is also such a possibility e.g. skis, keyboard, double bass. Please contact us.
The price for one piece of luggage does not depend on its size. This means that you will pay the same amount for leaving a 20l bag as for a 120l suitcase. By using one value for luggage we have significantly simplified the application. We do not expect you to measure your suitcase. We assumed that the vast majority of our customers travel with suitcases, hence the assumed luggage size.